Advertising at the airports and railway is a presentation of advertising campaign on LCD monitors placed at strategic points of these objects, on the monitors located at the checkout or counters and LED screens nearby to these facilities.
                             Airports:  Warsaw Chopin   Warsaw Modlin    Cracow   Wroclaw       
                                                          Gdańsk  Katowice  Poznan  Olsztyn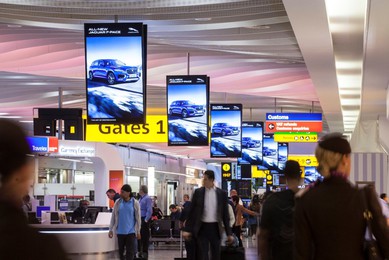 Investing in advertisement at the airports and railway stations brings you:
the possibility of direct and effective advertising in order to reach thousands of passengers both Polish and foreigners travelling for tourism and business purposes;
large attractiveness of media content by combining both information and entertainment advertisement
recipients' better content assimilation which makes them easily memorizing attractive and unobtrusive message from the monitor during their travelling;
the ability of accurate content control of the campaign, as the commercials can contain a lot more information than traditional media;
media flexibility and a better adaptation to the needs through the rapid update or content replacement on all screens at no additional cost.


What are the benefits of cooperation with our company?
We constantly expand our offer into more attractive, modern media advertising at the airports and railway stations.
We offer screens of the best picture quality only and highest technical standard.
We provide professional support at every stage of the campaign - from planning and media selection all the way to final report.
We advise how to select media, the emitting frequency and the length of the spot, in order to achieve the best results for your campaign.
For our customers we create the most interesting spots that effectively attract the attention of the audience and stand out from the competition.
With us you can have your campaign up and running even within two hours.