Advertising in medical clinics – 195 units, 406 screens in waiting rooms, 5 000 000 patients per month.
There are definitely exact places where you would like to advertise because you are aware your potential customers are there. One of these places are medical units – surgeries. Until recently, the promotion of products and services in this particular sector was extremely difficult, sometimes even impossible. Luckily, it's the past. Everything changed thanks to network of LCD screens in most popular surgeries.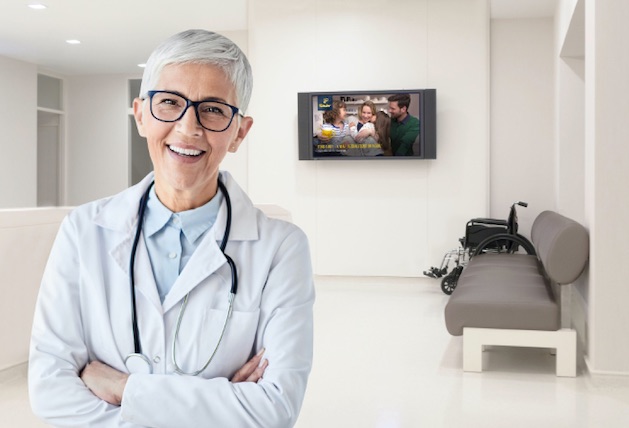 Advertising in medical facilities – how it works
Advertising in surgeries and clinics is a nationwide network of screens located in the largest private medical facilities, such as: Medicover, Luxmed, Polmed, Scanmed, CMP, Affidea, Swissmed, Centermed, Olmed as well as regional units located in 17 cities throughout the country. Information and advertising spots are emitted on total of 406 LCD screens placed the way they attract all patients awaiting their doctor's appointment.
Advertising in surgeries vs. Customer's profile
Advertising in medical facilities will allow you to reach people of all ages. However, this group has common features and needs, respects similar values, and often has the same motivation and problems. First of all, patients of private surgeries and clinics are people who are not dependent on National Health Care. They can afford the private visits with top specialists. They do not have to spend years waiting for their appointments. They care about their health as well as their loved ones. They want to stay in good shape and enjoy life. That is why they lead active life style and look after their diet. They are consumers who make reasonable decisions, yet are open to novelties, products and services, which will make them feel better.
Advertising at medical facilities – why is it worth it
Over 70% of patients pays attention to ads emitted in surgeries. No wonder, the time spent in the queue goes slowly and patient usually is not prepared for long waiting. Therefore, he definitely pays attention to information displayed on the screen and remembers them. In consequence affecting his purchasing decisions. Additionally, advertising in medical facilities is a wide-scale campaign. Your offer will reach 5,000,000 of potential customers within a month, in 195 facilities. It is a unique opportunity to get to a wide group of receivers within sector which was unavailable for most of advertisers. Take your chance before your competition does.